CENTURION M42
BULK CARRIER VEHICLE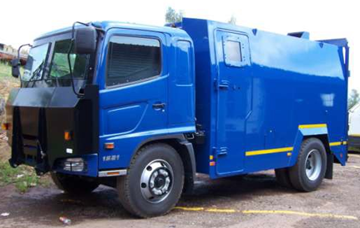 For more detail on technical specifications and driveline options, please send us an Email.
ABOUT
The Centurion Bulk Carrier Vehicle is available on Toyota Hino 500 model 1326, 4×2 donor trucks.
The Bulk Carrier range of vehicles was designed to complement OTT Group's range of monocoque armoured vehicles.
An OTT armoured capsule is fitted to the cab of the donor truck and offers the occupants ballistic protection up to level B6+. The rear box body is also constructed of armoured steel B4+ protection.
There is a variety of load bodies available that protect the cargo from such threats as ballistic, grinding and cutting.
Up-armouring performed by OTT does not revoke the Original Equipment Manufacturer (OEM) warranty and is signed off by the relevant OEM. The Bulk Carrier vehicles enjoy the benefit of OEM dealer support.
Other donor trucks can also be considered.
The main reason for using a medium duty Toyota Hino truck and MAN truck is based on established dealerships for Toyota Hino and MAN trucks around the world.